On sale later this year, the Infiniti Q60 will replace the slightly smaller G37. The Q60 aims to compete with the likes of Audi A5 and BMW 4.
While the Q60 includes aerodynamics built for speed, there are also 2 engines to choose between: the V6 twin-turbo 3.0-litre and the more powerful 4-cylinder turbocharged 1991cc.
Dynamic Drive
Dynamic Direct Adaptive Steering (an electric steer-by-wire function) combined with the Dynamic Digital Suspension and the Drive Mode Selector ensure the Infiniti will go well beyond its similar coupé rivals.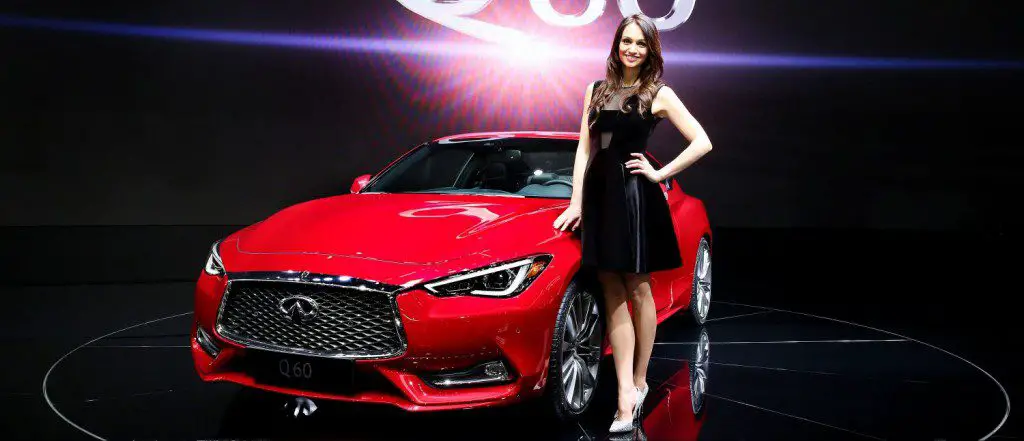 Adaptive
Adaptive swivelling headlights and a 30 second deployment of the 3-piece metal hardtop convertible proves the Infiniti to be a classy and adaptive number. As expected with a classy number, the interior does not disappoint. Leather seats and the usual technology such as a 6-speaker USB/iPod stereo and Bluetooth, seat memory and a navigation system ticks all the boxes for the tech-savvy.
Safety is standard: stability system, sensing airbags, adaptive cruise control; all standard.
Recently exhibited at the Geneva motor show, both the QX30 and the Q60 made their European premier. Featured on the Infiniti website, the models were celebrated:
With both new models currently on show at our stand, this eagerly anticipated debut allows visitors to discover just how incredible the new additions to the range are. They also have the chance to get close to the all-new compact crossover, the Infiniti QX30, and the revolutionary design of the new Infiniti Q60 Sport Coupé.

Plus, visitors can explore the ground-breaking Infiniti Q30 premium active compact, the Q50 Sedan, the Q70 luxury saloon and the QX70.
An apt summary headline of the Q60 on the Infiniti Q60 Webpage Headline:
Every razor-sharp edge, every dramatic crease stirs something deep inside. The possibilities feel limitless and exhilarating. Just push the start button. The growl of a new family of turbocharged engines with up to 400 horsepower will let you know exactly where you stand. At the edge of a revolution.
Inspiration is the word. The inspired Infiniti Q60 will go from Infiniti to beyond.